Product introduction:
BersinbioTM has established a FISH Probe preparation platform to undertake customized fluorescence in situ hybridization kit business, which can be customized according to customer needs.
This kit is mainly used to detect the expression level and expression position of the target gene in the sample, and can be used for the detection of tissue sections (paraffin sections/frozen sections), Round coverslip and chromosome section.(This kit is for scientific research purposes only)
BersinbioTM FISH Kit series has been welcomed and affirmed by the majority of scientific research users since its listing, and has provided high-quality services to nearly a thousand users including domestic first-class scientific research institutes, medical institutions and multinational biological enterprises. For example, Chinese Academy of Sciences, Sun Yat-sen University School of Medicine and Affiliated Hospital, Southern Medical University School of Medicine and Affiliated Hospital, University of Hong Kong, Peking University School of Medicine and Affiliated Hospital, Southeast University School of Medicine, Jiangxi Agricultural University, Tongji Medical College of Huazhong University of Science and Technology, etc.
BersinbioTM uses the self-obtained specific probes from the research species and chemically covalently connects them with fluorescein. Autofluorescence probes have obvious advantages: high sensitivity, good light stability, and long fluorescence lifetime; the biggest advantage is that autofluorescence probes can effectively reduce self-specific fluorescence interference and achieve more efficient and specific gene detection signals. The comparison will produce great technical effects, gain customer approval and replace traditional probe detection, and meet the experimental needs of domestic and foreign scientific researchers for high-quality FISH Kits.
The research and development of the kit has received strong financial and policy support from the National Science and Technology Enterprise Innovation Fund and the Guangdong Province and Guangzhou Municipal Science and Technology Bureaus at all levels. The core technology of this product has applied for a national patent, which will protect the core technology and related supporting indicators. At the same time, after years of accumulation, a molecular probe research and development center was established in 2011. BersinbioTM has a strong fluorescence in situ hybridization technology team to provide technical support and answers to various problems encountered by customers in the use of the kit.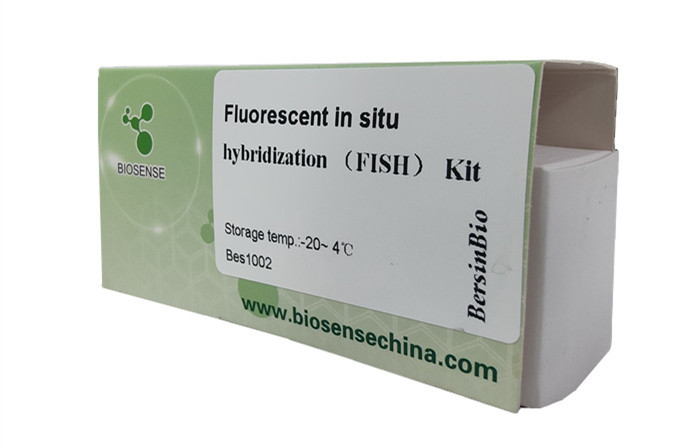 Principle of the experiment:
FISH is to hybridize the fluorescein-labeled oligonucleotide probe with the nucleic acid in the denatured chromosome, cell or tissue according to the principle of base complementary pairing. After denaturation, annealing, renaturation, and washing, a hybrid of target DNA or RNA and nucleic acid probe is formed. Finally, it is developed under a fluorescence microscope to perform qualitative and localization analysis of the DNA or RNA to be tested.
IF is established on the basis of immunology, biochemistry and microscopy technology. It is a technology that uses antigen-antibody reaction to locate and trace antigenic substances in tissues or cells.
IF-FISH is an integrated application of FISH and its IF technology, a new technology that can simultaneously track the intracellular localization of nucleic acid molecules and protein antigen molecules.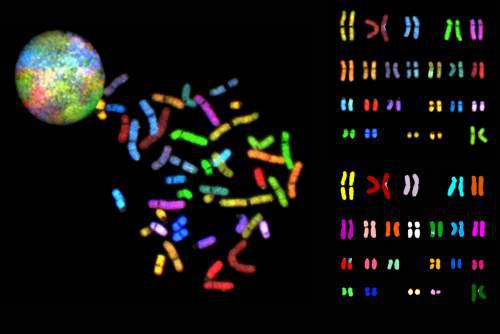 Technical process: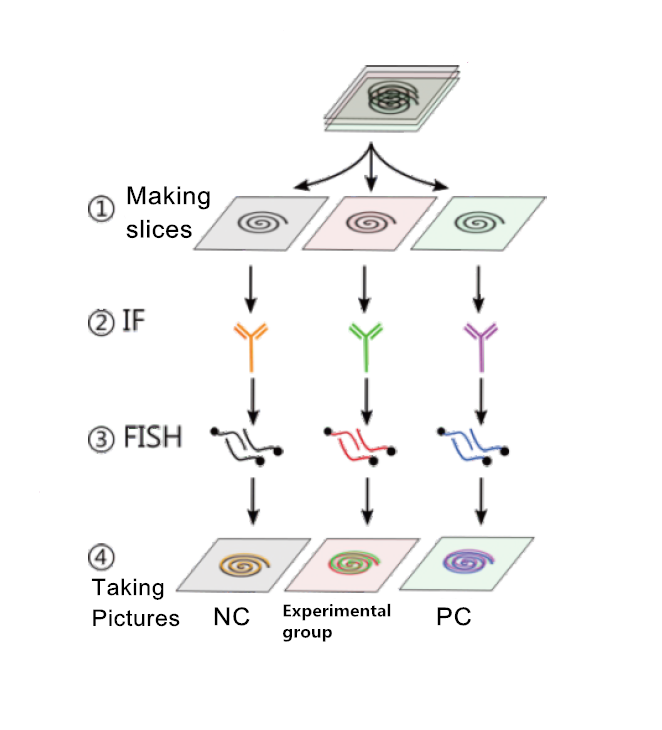 Result example:







Product features:
1、Safe, fast, and reproducible.
2、The specificity is 100% and the sensitivity exceeds 90%.
3、The probe has stable performance and can be stored at low temperature for more than two year.
4、Simple operation, precise positioning, no experimental pollution.
5、Simultaneously trace the location of nucleic acid and protein.
Development history:
In 2011, the FISH Probe preparation platform was established to undertake customized fluorescence in situ hybridization kit business, which can be customized according to customer needs.
In 2012, the FISH Kit was successfully developed, the kit production line was established, and the product was put on the market.
In 2013, the Chinese and English registration of the BersinbioTM trademark was completed. In the same year, the BersinbioTM FISH Kit core technology invention patent was recognized and approved by the State Intellectual Property Office. The patent will protect the core technology and related supporting indicators. The BersinbioTM FISH Kit has been recognized by customers.
In 2014, BersinbioTM passed the ISO 9001 quality management system certification.
Application:
Cytogenetics Research:
Chromosome number and chromosome segment deletion, translocation, inversion, duplication and other chromosomal structural variation detection.
Gene mapping and map construction:
Directly and quickly determine the relationship between the target DNA sequence and telomeres, chromosome bands and centromeres, for use in the construction of genetic physical maps.
Transgenic cytological identification:
Design probes with the target gene as the target sequence, locate the position of the transformed gene on the chromosome, and detect whether the transgene exists in the nucleus of the recipient cell and whether it is integrated into the chromosome.
Genome evolution research:
Using the total DNA of the hybrid parent as the label probe, and the genomic DNA of the other parent as the blocking DNA, in situ hybridization is performed on the chromosome preparation of the hybrid to effectively distinguish two chromosomes with similar homology.
Gene expression research:
It is applied to the expression and location analysis of mRNA, miRNA and lncRNA.
Microbiological testing research:
Oligonucleotide probes are designed with species-specific nucleotide sequences such as 16S rRNA, 23S rRNA and their spacers as targets, which are mainly used in microbial system development, microbial diagnosis and environmental microbial ecology research.
Possess more than 10,000 kinds of conventional genes and more than 1,000 kinds of microRNA.